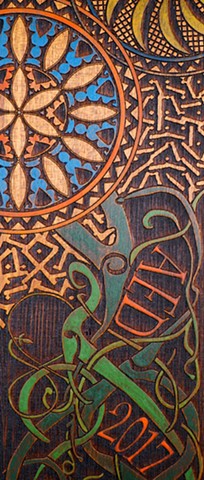 Interpretations Pending Mangle Board (detail)
Reclaimed Blackwood, reclaimed wooden furniture parts (various species), paint, oil finish.
34" x 9" x 5 1/2"
2017
The initials are mine as they would appear on a traditional mangle board: AED= Ashley Eriksmoen, Daughter.
Rather than seeking 'order', we could ruminate on the complex intelligence of the wildness while ironing out our own relationships to the planet each day.